News from the Club ...
A new Club Year !
June brings us into a new Club year which means that the 2016-17 Subscriptions are now due.

Members at the recent AGM agreed to a small increase in each category of membership, as follows:
Seniors - £80
Juniors / Students - £40
Family - £110

All subscriptions should be passed to the Secretary or any Committee member, with cheques payable to "Wrexham Brymbo Squash Club."
2016-17 Membership Application Form
2016 Club Championship
The 2016 Club Championships will be held during June and July; we hope that all members will support this event.

Due to the number of entrants, some preliminary matches were played between 19th and 25 June, with the Finals Weekend moved and re-scheduled for 2 July.
North East Wales Ladies
The region submitted a Ladies team to play in the Welsh Inter Counties series in Cardiff during June and narrowly missed the top spot to finish a creditable second out of four.

The team, which comprised Hannah Davies, Elin Harlow, Lindsay Silvester, Rachel Cooper and Lianne Kiearney, played teams from Gwent, South Glamorgan and Pembrokeshire & West Wales.
North East Wales Ladies
June Internal Leagues
The internal leagues for June are now posted on the website, accessible either by using the link (right) or via the on-line booking system. Please note, matches are to be played by Sunday, 3 July 2016.

Please post all results on the Monthly League sheet that is pinned to the noticeboard.
Players who do not play any matches over a two month period will be removed from the leagues. If, however, any member wishes to join (or re-join) the leagues, please contact Jim Tunley.
2016 AGM
The Club held its 2016 AGM on Wednesday, 18 May in the Sports Club, but with a disappointing attendance.

Matters discussed included our subscriptions and light card fee rates for the next twelve months, as well as the Third Court progress and the election of a Squash Club Committee.

Highlights included the decision NOT to increase the light card rate but that our annual subscription rates should be increased by £10 - a full note of the meeting is available below.
2016 AGM Note
2016 AGM Papers
Mark flies the flag for Wales
Over the weekend 6-7 May, Mark Davies captained a successful Welsh Mens Over 55 Team at the 2016 Home Internationals, in Nottingham.

The Team had an excellent weekend to finish in second place, unlucky not to have beaten the first placed England Team. Congratulations to them all.
Flying the Flag
North Wales Cup Finals - highs & lows !
An evening of mixed emotions for our First and Second Teams on 3 May in the 2016 North Wales Cup Finals, at Deeside Leisure Centre.

Congratulations to the First Team on making it a League and Cup double, but commiserations to those in our Second Team who, having won their match, were to be disqualified.
See the Teams Page for details.
North Wales Cup Winners
Superb International debut for Neil
On his debut for Wales in the 2016 Home Internationals, hosted by Wales in Cardiff over the weekend 22 / 23 April, well done to Neil Rawlings on winning both matches he played in - against Scotland and Ireland.

Wales had a good weekend finishing in second place, to England.
Neil at Home Internationals
Unprecedented season for Club !
Congratulations to our two teams in the North West Counties Squash League on finishing so well this season.

The First Team were runners-up in Division 2 West, to Southport & Birkdale; while are Second Team remained undefeated to win the Division 3 South West title to gain promotion - they moved into the Regional play-off matches but lost out to a strong team from Prestbury.

In the North Wales Leagues, again an outstanding season with our First and Second Teams winning their respective Divisions
The First Team were Champions in Division 1, while the Seconds won Division 3 to gain promotion back to Division 2; the Third Team, also in Division 3, finished the season in 6th position.

These are superb results for the Club, particularly for those playing North West Counties, with its reputation as one of the toughest and the largest squash leagues in the world.
NWCSL First Team - how they finished
NWCSL Second Team - how they finished
Access to Defibrillation
The Brymbo Sports & Social Complex now has an accessible Automated External Defibrillation (AED) device on site, located in the glass washing area of the Sports Club.

On 7 April, two members from the Squash Club, Hannah Davies and Jim Tunley, took part in a training event launching the device, along with members of the Bar Staff and other Sections.
Representing Wales
We are proud to announce that three Club members will be involved in the 2016 Masters Home Internationals to be held in Nottingham between 6 - 8 May.

Congratulations to:-
Jonathan Davies in the Over 40 Team;
Neil Rawlings in the Over 45 Team; and
Mark Davies who will Captain the Over 55 Team. Congratulations to them all.
Seconds success ...
Congratulations to all involved with our North West Counties Second Team on gaining promotion with two matches to spare.

See the Teams Page for details.
Third Court update ...
Following a meeting with representatives of the Brymbo Sports & Social Complex Directors on 16 March, the Club's ambition for a Third Squash Court may be a step nearer to a reality !

There is still much work to be done but we do hope, in the next few weeks, to be in a position where we may proceed with a bid to Wrexham Council for Planning consent.

Click on the link below to see how the plans are shaping up.
BIG NEWS - our third court plans
Golden Oldies at the Masters !
The 2016 North Wales Masters Open Tournament was held at Deeside LC over the weekend 5 - 6 March.

Despite a disappointing response from players across North Wales for this inauguaral event, seven members from the Club took part:-
Jonathan Davies, Darren Lee, Neil Rawlings, Geraint Jones, Mark Davies, John Williams and Jim Tunley.

Our Club members performed with some success, playing excellent squash against quality players from as far away as South Wales, as follows:-
Neil Rawlings - made Final of O45;
Jim Tunley - O65 Winner:
Mark Davies - O55 Winner;
Darren Lee - O35/40 Plate R'up
Jonathan Davies - O35/40 Winner.
The Golden Oldies
St David's Day 2016 - it's our ninth year
On 1 March (St David's Day) 2016, the Club celebrated nine years since we first opened for members as Wrexham Brymbo Squash Club.

Thanks to our volunteers, much has happened since then, but we are hopeful still that in the coming year we will see some real progress towards us achieving our third (show court) squash court .... !
A New Squash Club for North Wales
We welcome the formation of Prestatyn Squash Club, based at Prestatyn High School.

To celebrate the new Club and the re-opening of the second squash court, a formal opening evening was held on 19 February with an opportunity for club players to get on court with two world ranked players, Tesni and Emyr Evans.

A super evening was had by all and our best wishes and all success to the new Club.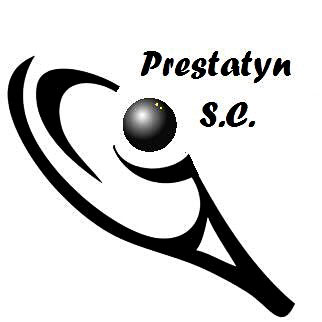 Prestayn SC - formal opening
Prestayn SC - Tesni & Josh
Prestayn SC - Emyr, Jack & John
Prestayn SC - Will & Jamie
Our National Champions
Congratulations to Laura Massaro and Nick Matthew on their 2016 National Championship victories, their third and eighth respectively.

Huge congratulations also to Tesni Evans on achieving a Semi Final place, only to lose out to the eventual Champion.
Our 2016 National Champions
Hannah plays National Championships
Club member Hannah Davies played in the qualifying rounds of the 2016 National Championships in Manchester on 10 February.

Hannah beat her first opponent, Chloe Marshall (England), by 3-0 then had a tough final qualifying match against Chester's Rachel Chadwick (England) but went down in a hard fought match by 3-0.
Rachel went through to play the number 8 seed, Sarah Campion (England).

Tesni Evans, from Prestatyn, is seeded 7 in the Championship.
National Championships - qualifier win
National Championships - Hannah v Rachel
National Championships - qualifier Final
Old Masters !
Four Club members were at Swansea over the weekend 6 / 7 February, playing in the 2016 Bourse Welsh Masters Open Championships.

A good weekend was had by all, with the following results:-
Darren Lee ((lost in Q. Final) [Mens Over 40]
Jonathan Davies (lost in S. Final) [Mens Over 40]
Neil Rawlings (Runner-up) [Mens Over 45]
Mark Davies (lost in S. Final) [Mens Over 55].
Neil Rawlings - runner-up Mens Over 45
Glyndwr students try squash
As part of their Sports Practice Module, First Year Sports Science students from Glyndwr University, took the courts at the Squash Club on 4 February with support from Hannah Davies.

We hope that from this crop of students, some may wish to take up the game and possibly help the Club with its Schools Squash programme !
Glyndwr students at the Club
Well done Jack & Hannah
Two Club members played in the 2016 Welsh National Championships in Cardiff over the weekend 22 / 24 January and performed superbly to achieve semi-final places in their respective events.

In the Men's D event, Jack Hayes lost 12/10 13/11 11/8 to the Runner-up, Lewis Poole

In the Ladies A event, Hannah Davies lost 11/6 11/2 11/1 to the eventual Champion, Tesni Evans. Hannah also went on to play Elin Harlow in a tough Third / Fourth play-off losing out 13/11 11/9 4/11 8/11 11/8.

Really well done to both Jack and Hannah.
Ladies Semi Finalists - as seen on TV !
Welsh Ladies - top four
A Fast & Furious success !
It was possibly our best yet (very late) Christmas Tournament and thanks to all those members who took part in the 2015 Fast & Furious Tournament over the weekend 8 / 9 January.

Particular thanks also to Hannah and Mark Davies for all of their hard work to ensure its success.

Most pleasing this year was the entry spread from all ages and abilities; it's great to see some of the very youngest members taking part and helping to make it such a fun event.

Winner of the main event, for the third time, was our 2015 Club Champion, Jonathan Davies, with Runner-up, Darren Lee.
Fast & Furious - winners & runners-up
Fast & Furious - the competitors
A Happy New Year to you all ...
On behalf of the Squash Club Committee, a very happy and active New Year to all our members in 2016.

Could this be a year of success for our teams, our juniors and possibly the Club in achieving our third court dream ... fingers crossed for all of that !
Like father ... a new Champion
We are pleased to report a new Champion in the Club - Josh Davies (son of Club Champion, Jonathan) is the new Welsh Junior Closed Champion in the Boys Under 11 group.

See the Juniors Page for more details.
Josh is Number 1 in Wales !
A superb first half ... !
Congratulations to all players involved with the Club's NWCSL (Thursday) Teams on topping their respective Divisions as we go into the Christmas break. The push for promotion will continue in January.

A full report on the first half of the season is now available on the Teams Page.
Equity Policy
The Wrexham Brymbo Squash Club Committee is keen to ensure all matters within the Club are treated with respect and fairness and, as such, have now formally acknowledged and adopted the Wales Squash & Racketball Model Equity Policy.
To view the Equity Policy, click on the link -

Equity Policy
Calling all potential coaches . . .
Do you have what it takes to become a qualified squash coach - if so, your Club needs you!
If any Club member has an interest in committing to become a qualified coach, the Squash Club may be able to assist with necessary fees and mentoring.
Please contact either Mark Davies or Jim Tunley to chat it through.
and finally ... all Members to note
To all members - at anytime, if you are the last to leave the Club, please ensure that the showers and all of the lights are turned off.
Please be vigilant in this and report any problems that may arise - thank you.